The Doors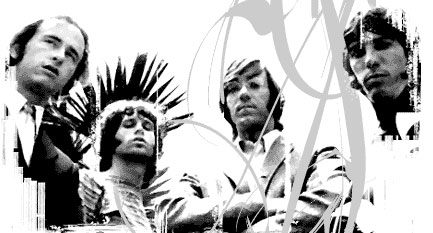 The Doors were formed in Los Angeles in 1965 by UCLA film students Jim Morrison and Ray Manzarek. Manzarek, an organist, had just formed an R&B band named Rick And The Ravensask with his two brothers and was searching for a vocalist and drummer. He was immediately impressed with Morrison after hearing him sing a song he had written, "Moonlight Drive" and ask him to join his band.

They then recruited drummer John Densmore and recorded six Morrison songs shortly after. After the recordings Manzarek's brothers were unhappy with its outcome and left the band. They both were replaced by Densmore's friend, guitarist Robbie Krieger. A new bass player was never found. The bass would be handled by both Krieger and Manzarek, who would play it on his organ. Also at this time the band was renamed "The Doors" by Morrison.

The Doors' first residency was at the London Fog on the Sunset Strip, then later at the Whisky-A-Go-Go. Even early on Morrison was a controversial front man as the band was fired from the latter establishment in 1966 after performing a oedipal composition called "The End". The song was too far out for the club owners, but it brought attention to Morrison and the Doors as they were signed by Elektra Records. In '67 their first album The Doors was released. A tremendous debut album, one of the best first-time outings in rock history, introducing the band's fusion of rock, blues, classical, jazz, and poetry. The album would produce what would be their biggest single, "Light My Fire". The song went straight to number one after the album's version, which clocked in at over seven minutes, was trimmed down a bit for the single so it would get more air play.

Their next few albums seem to lack a bit of what the debut had, but still each one had a few stand out songs and hit singles, including another number one song, "Hello I Love You". During this time Morrison would become know as 'the Lizard King' for his outlandish performances and radical lifestyle. He was very much an anti-authoritarian and that combined with his notorious alcohol and narcotics consumption created problems, as he would bring this entire package with him on stage. He would be arrested more than once in 1969, in Hartford, Connecticut for assaulting a police officer back stage and then on stage at Miami's Dinner Key auditorium, after being accused of indecent exposure, public intoxication and profane, lewd and lascivious conduct.

In 1970 the band released Morrison Hotel which was full of power with most of it's material as strong as their first album. That was followed with the April, 1971 release of LA Woman, which was just as powerful an album and had a little more of a blues-oriented feel to it. Considering that tension in the band was real high between Morrison and the others during its recording (due to Morrison's drug and alcohol problems, which were getting worse), this album still turn out to be one of their best. With its seven-minute title track that celebrated both the glamour and seediness of Los Angeles and its closing number, "Riders On The Storm", which also clocked in over seven minutes and was the perfect closer for the album with its haunting vocals.

After the sessions for LA Woman, Morrison headed to Paris, France to live. Although he love the limelight he got as a pop star, he also hated the fact that was what he was know as. He wanted to be looked upon as a poet and hoped to start a literary career there. Tragically on July 3, 1971 he was found dead in his bathtub by his common law wife Pam. Officially he died of a heart attract but all kinds of stories would abound, including one that he died at a Paris nightclub of a drug overdose and his body was brought back to his apartment and the cause of death was covered up.

The surviving band members decided not to replace Jim and go on as a trio with Manzarek on vocals. They released two more albums that were not that bad, but without Morrison's writing and singing it wasn't the same. They disbanded in 1973. But the Doors were not entirely dead. There was just something about Morrison that would linger and years later bring in new fans. In 1978, Manzarek, Krieger and Densmore reunited to recorded new music for a series of poetry recitations which Morrison had taped during the LA Woman sessions. The resulting album, An American Prayer, was a big hit. That lead to the live album Alive She Cried in 1983, which was from archived material.

It also sold well and all the older material also continued to sell, which lead to Morrison's picture on the front cover of Rolling Stone magazine in 1985 with the caption "He's Young, He's Hot, He's Sexy and He's Dead". Finally, in 1991 director Oliver Stone made a feature film about Morrison and the group called The Doors starring Val Kilmer as Morrison and it too was a hit. Even as the new century dawns, almost 30 years since his death, Morrison is still a major role model to a new generation of rock fans.