Led Zeppelin
Over a 10-year, nine-album career from 1969-79, Led Zeppelin was the most popular rock group in the world, ultimately selling more than 50 million records in the U.S. alone (more than 200 million worldwide), developing the blues-based power trio-plus-lead singer archetype in many directions including mystical English folk-rock, Middle Eastern-influenced exotica, quirky pop and every manner of heaviness. They also came to symbolize the Dionysian excesses of the rock lifestyle. Their ubiquity on classic rock radio formats and the aforementioned excesses have led many to dismiss the band as overrated and symptomatic of the decline of rock 'n' roll in the '70s.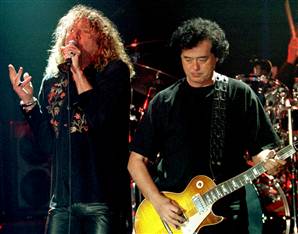 The super value collection "Early Days and Latter Days: Best of Vols. 1 and 2" (two discs) prove that, if anything, the band's musical greatness is still under appreciated, due to the previously mentioned resentments and the fact that the band had no greater cultural impact — they didn't much stand for anything.

Jimmy Page, who had led the last incarnation of the Yardbirds and had been an extremely successful session guitarist (Who, Kinks, Them, Donovan, Joe Cocker), formed the band in 1968 with veteran session bassist/keyboardist John Paul Jones, 19-year-old singer Robert Plant and Plant's friend, drummer John Bonham. Commenting upon Page's low expectations for the success of the band, Keith Moon suggested the name "Led Zeppelin."

They were both wrong: "Led Zeppelin 1" ("Good Times Bad Times," "Babe, I'm Gonna Leave You," "Dazed and Confused," "Communication Breakdown"), "Led Zeppelin 2" ("Whole Lotta Love," "The Lemon Song," "Hearbreaker," "Living Loving Maid," "Ramble On") and "Led Zeppelin 4" (a.k.a. "Zoso," with "Black Dog," "Rock and Roll," "When the Levee Breaks," "Stairway to Heaven") are among rock's greatest albums.

Plant's vocals reached levels of deranged ecstasy matched perhaps only by Little Richard on lyrics typically either oozing with sexuality or derived from Anglo-Saxon myth and/or the occult.

Bonham (whose accidental death in 1980 broke up the band) pounded his drums relentlessly like a nimble elephant dancing through the house. Jones's bass and strategic keyboards glued the disparate elements together. And Page, who did most of the writing and production, played some of the most fundamental and memorable guitar in rock history — from the heaviest crunch to the most delicate acoustic finger picking.

Proving the band's vast enduring popularity, the band's live two-DVD set "Led Zeppelin," released last May, has sold more than 600,000 copies.