The Beatles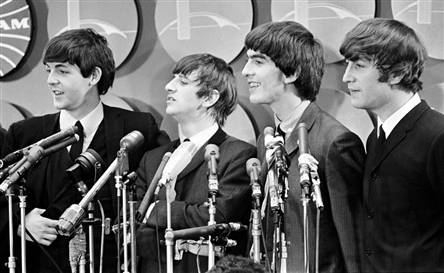 The Beatles are unquestionably the best and most important band in rock history, as well as the most compelling story. Almost miraculously, they embodied the apex of the form artistically, commercially, culturally and spiritually at just the right time, the tumultuous '60s, when music had the power to literally change the world (or at least to give the impression that it could, which may be the same thing). The Beatles are the archetype: there is no term in the language analogous to "Beatlemania."

Three lads from Liverpool — John Lennon, Paul McCartney and George Harrison — came together at a time of great cultural fluidity in 1960 (with bit players Stu Sutcliffe and Pete Best), absorbed and recapitulated American rock 'n' roll and British pop history unto that point, hardened into a razor sharp unit playing five amphetamine-fueled sets a night in the tough port town of Hamburg, Germany, returned to Liverpool, found their ideal manager in Brian Epstein and ideal producer in George Martin, added the final piece of the puzzle when Ringo Starr replaced Best on drums, and released their first single in the U.K., "Love Me Do/P.S. I Love You," all by October of 1962.

Their second single, "Please Please Me," followed by British chart-toppers "From Me to You," "She Loves You," "I Want to Hold Your Hand," "Can't Buy Me Love" (all Lennon/McCartney originals), and the group's pleasing image, wit and charm, solidified the Fab Four's delirious grip on their homeland in 1963.

But it was when the group arrived in the U.S. in February 1964 that the full extent of Beatlemania became manifest. Their pandemonium-inducing five-song performance on the Ed Sullivan Show on February 9 is one of the cornerstone mass media events of the 20th century. I was five at the time — my parents tell me I watched it with them, but I honestly don't remember. I do remember, though, that the girls next door, four and six years older than I, flipped over that appearance and dragged me into their giddy madness soon thereafter. I loved "I Want to Hold Your Hand," the Beatles' first No. 1 in the U.S. (they had 19 more, still the record), more than any other song I have ever heard, or almost assuredly will ever hear, with a consuming intensity that I can only now touch as a memory.

The Beatles generated an intensity of joy that slapped tens of millions of people in the face with the awareness that happiness and exuberance were not only possible, but in their presence, inevitable. They generated an energy that was amplified a million times over and returned to them in a deafening tidal wave of grateful hysteria.

A partial result of that deafening hysteria was that the band became frustrated with their concerts and stopped performing live after a San Francisco show on August 29, 1966. Yet even this frustration bore fruit, as the four musicians, aided almost incalculably by producer Martin, turned their creative energies to the recording studio, producing ever more sophisticated and accomplished albums "Rubber Soul" (1965, "Drive My Car," "Norwegian Wood," "You Won't See Me," "Nowhere Man," "Michelle"), "Revolver" (1966, Harrison's "Taxman," "Eleanor Rigby," "Here, There and Everywhere," "Yellow Submarine," "Good Day Sunshine," "And Your Bird Can Sing"), the majestic and epochal "Sgt. Pepper's Lonely Hearts Club Band" (1967, title track, "With a Little Help From My Friends," "Lucy In the Sky With Diamonds," "When I'm Sixty-Four," "A Day In the Life").

Though centrifugal force began to take its toll, they still managed to produce three more album masterpieces, double-album "The Beatles" (1968, a.k.a. "The White Album," with "Back In the USSR," "Dear Prudence," "Ob-La-Di Ob-La-Da," Harrison's "While My Guitar Gently Weeps," "Blackbird," "Birthday," "Helter Skelter"), "Let It Be" (recorded in early 1969 but not released until 1970, with the title track, "Two Of Us," "Across the Universe," "I've Got a Feeling," "The Long and Winding Road" and "Get Back"), and the fitting climax "Abbey Road" (1969, Harrison's "Here Comes the Sun" and "Something," Ringo's "Octopus's Garden," "Come Together," "Maxwell's Silver Hammer," "I Want You," "She Came In Through the Bathroom Window").

They made an incredible promise and instead of backing down from that promise they delivered and delivered and delivered for eight years until the full implications of the promise finally hit them: they were staring into the jaws of an insatiable, ravenous beast that was no less beastly because it smiled and waved and gave them money. The Beatles finally suffered a collective inability to pretend that the beast was not a beast, and in 1970 they broke up and returned to being human.

Beatlemania redux

A small but significant slice of the Beatles' magic came back in 1986 with release of the classic John Hughes teen flick "Ferris Bueller's Day Off," wherein Matthew Broderick's title character lip-syncs the early Beatles classic "Twist and Shout" (ironically, a song they didn't write) from the top of a float in a downtown Chicago parade.

John Lennon sang "Twist and Shout" as though the words were joyful corrosive poison, that his only hope of survival was to expel them with all the vehemence that his rhythm-besotted body could muster, and so does Ferris in the scene. Paul and George's responses matched John's zeal at the end of each stanza with their delirious "Ooohs." They were enjoying themselves so much that this song seemed the most important thing in their lives at that moment. The Beatles knew the awesome responsibilities of pleasure.

Ferris lips lustily, the frauleins on the float shimmy and shake and bounce off of Ferris like electrons, the thousands in the crowd sing along from the pits of their pelvises. Chicago jams as one, recreating the Beatles' amazing real-life feat of a unifying mass-madness that changed people's lives for a time.

When I saw the movie in the theater in '86, people actually stood up and danced in the aisles. How could they not? The "Twist and Shout" segment was the most exciting and joyous musical moment in a movie since the Beatles own "A Hard Day's Night" (1964), and was the perfect climax to Ferris Bueller's film exploits.

The public was so wistful for Beatlemania that "Twist and Shout" returned to the charts for 15 weeks that year, a brief but sweet reminder of the real thing.