Pink Floyd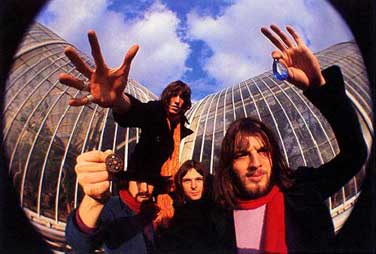 Pink Floyd is the most eccentric and experimental multi-platinum band of the album rock era, creating exceptional cinematic sound sculptures "Meddle," "Dark Side of the Moon," "Wish You Were Here," and the band's popular apex and conceptual death knell, "The Wall." Beginning in the mid-'60s as a R&B-based hard rock band, the band (named after Piedmont blues men Pink Anderson and Floyd Council) Syd Barrett on guitar and vocals, Roger Waters on bass and vocals, Richard Wright on keyboards, and Nick Mason on drums mutated quickly into a strange combination of twee British psychedelia ("See Emily Play," "Arnold Layne") and long-form instrumental space rock ("Astronomy Domine," "Interstellar Overdrive"), inspired by Barrett's liberal LSD use: a Cambridge English garden transported to Mars.

Guitarist David Gilmour joined the group as insurance against Barrett's volatility in '68, but when Barrett was forced out for unreliability his "backup band" became a democratic foursome sharing writing, singing and leadership duties. As Floyd headed more deeply into experimental symphonic explorations in the sonic chill of space — about as far removed from rock 'n' roll's origins in amped-up American teenage hormones as possible — the more popular they became.

"Meddle," released in 1971, was the band's transition album from the Barrett-influenced '60s to the Waters-Gilmour Floyd of the 1970s, highlighted by a pillar of space rock greatness "Echoes," over 23 minutes of confidently creative meandering, ingratiating harmony vocals from Waters and Gilmour, burbling organ from Wright, atmospheric axemanship from the incomparable Gilmour, otherworldly pings and drifting whale noises. You can hear the fertile seeds of "Dark Side of the Moon" here.

"Dark Side," released in '73, stayed on the album chart for an outrageous 741 weeks, a masterpiece of creative studio craft and a remarkably unified exploration of time, greed and existence — the album is an indispensable rite of passage still. "Wish You Were Here" is an exceptional, ruminative, ambient, long-form look at the disintegration of Barrett intermingled with Roger Waters' souring view of the world, and in particular, the music industry.

That dim view of life found its ultimate expression in "The Wall," which used its title to represent literal and metaphoric isolation. In elaborate theatrical presentations of the work, a wall was physically constructed throughout the performance, the collapse of which at the end of each show neatly presaged the group's fate. Waters went solo in the early-'80s and the group has reunited periodically without him, but neither the group nor he have ever been the same since.